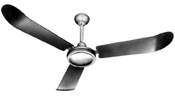 Sea Breeze IV

Specification
SB456
(White)
SB456
(Brown)
Sweep (Dia)
56"
56"
Weight
24 Lbs.
24 Lbs.
Blades
3
3
Max. C.F.M.
24,500
24,500
Max. Amp.
1.0
1.0
Max. Watts
110
110
Max. R.P.M.
265
265
American Label
Cast Iron Motor Housing
24" Down Rod Standard
Brown or White Enamel Finish
Stainless Steel Safety Cable
Fire Safety Switch Standard
5 Year Limited Motor Warranty.
The All New Sea Breeze IV
Engineered specifically for commercial and industrial applications. Unsurpassed for performance, efficiency and reliability.
---
The unsurpassed features of Aitken commercial / industrial ceiling fans:
Energy-efficient, totally enclosed motors, the largest and most powerful available.
Aerodynamically contoured heavy-duty blade design provides maximum area coverage, will not warp in high temperatures.
The highest rated area coverage per fan model.
Perfectly balanced motor and blades for wobble-free performance.
Blade sets weight matched to within 2 grams tolerance.
Thermal overload protection, (Texas Instruments) built-in, self -resetting, a new UL requirement for fans using solid state motor speed controls.
Permanently sealed and greased bearings for maintenance-free whisper quiet operation
Corrosion resistant, durable epoxy enamel paint finish over electrostatically applied powdered primer base.
Dual Purpose, designed for both heat reclamation and warm weather cooling.