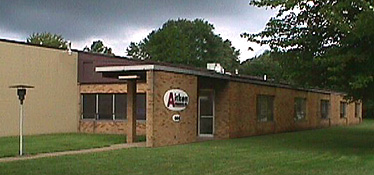 Aitken Products, Inc. manufactures and distributes high-quality industrial heaters. The key to Aitken's success is our ability to produce quality products for a variety of industrial applications, and to provide products when needed. Over ninety percent of our orders are shipped within one business day.
Started in 1957 by David Aitken Sr., Aitken Products has been a family-owned and operated business for three generations. Originally located in Cleveland, Aitken moved to our present facility (shown above) in Geneva, Ohio in 1970.
Current products (for industrial applications only) include:
Electric Infrared Heating Equipment
Electric Infrared Process Modules
Controls For All Heating Equipment
Industrial Ceiling Fans and Controls.
| | |
| --- | --- |
| | DANGER! |

Hazard of fire. Infrared radiant heaters must not be operated where combustible materials, flammable gasses, vapors or corrosives are present. Combustible material should not be placed in radiation path.

| | |
| --- | --- |
| | IMPORTANT! |

UNITS MUST NOT BE OPERATED AT A VOLTAGE HIGHER THAN RATED VOLTAGE ON NAMEPLATE.
UNITS MUST BE PROPERLY WIRED AND FUSED.